Master in Biomedical Engineering
The interdisciplinary and application-oriented Master of Science program "Biomedical Engineering" is assigned to the Faculty of Medicine of the University of Bern. The program is offered by the ARTORG Center for Biomedical Engineering Research in cooperation with the Bern University of Applied Sciences.
This focused and state-of-the-art educational program promotes scientific discovery and novel developments in the field of medical technology.
Engineering graduates from both universities and universities of applied sciences join this international program in English. Successful students acquire a full-fledged university master's degree, which allows them to continue their education towards a PhD degree. Career prospects in both industrial and academic environments are excellent.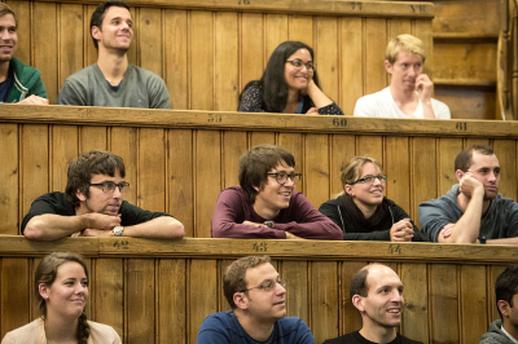 Basic information
Degrees:

Master of Science in Biomedical Engineering, Universität Bern und Berner Fachhochschule, with special qualification in:

Biomechanical Systems
Electronic Implants
Image-Guided Therapy

Number of credits:
120 ECTS credits
Degree programs:
Mono 120 ECTS credits; specialization from 2nd semester
Duration:
4 semesters
Language:

English

Beginning of studies:
Fall semester
Documents only in German available
Details of program
Basic Modules
Students are required to take all three Basic Modules. Within each Module all the courses are mandatory. The courses of the three Basic Modules add up to 37 ECTS credits.
Major Modules
Students are required to select one Major Module (focus area). Each Major Module consists of a certain number of mandatory and a wide range of elective courses. The selection must equal 41-45 ECTS credits. Faculty will assist students in designing a cohesive plan of study.
Complementary Skills
Students are required to select all mandatory courses and 2-6 ECTS credits from the elective courses.
Master's Thesis
In accordance with their supervisors students select a topic for their master's thesis. Usually the student will conduct thesis research and prepare the thesis during a time frame of up to six months (30 ECTS credits).
Scheme of program
The Biomedical Engineering program is a specialized master course. It has no bachelor course of studies as a precursor. Admission is granted to applicants coming from various fields of study. Students will apply their previously acquired knowledge and abilities to fully integrate the highly interdisciplinary subject matter.
Requirements
Individual academic requirements
The following academic qualifications are required for admission to the specialized master's degree program in Biomedical Engineering (mono):
Bachelor's degree from a Swiss university or a Swiss university of applied sciences in one of the following branches of studies:
| | | |
| --- | --- | --- |
| | a | Electrical Engineering |
| | b | Computer Science |
| | c | Mechanical Engineering |
| | d | Microtechnology |
| | e | Physics |
| | f | Computational Science |
| | g | A comparable field of study |
Applications supported by a degree not listed under points a - e or with an international degree are also possible. In cases such as these, admission is based on individual achievement, taking into account your existing knowledge and achievements.
Additional attainments of up to 30 ECTS credits may be required which must be fulfilled in order to complete the master's degree program. The ECTS credits will be listed separately in the diploma supplement as extracurricular attainments.
If you are applying with an international degree, you must also take a GRE test.
The degree used for assessment purposes may not be more than five years old. Exceptions are possible where justified.
Language requirements
All courses are taught and assessed in English; therefore, a good knowledge of English is required.
No language proficiency certificates are required; language competence is your own responsibility.
For questions regarding application and admission, please contact the Admissions Office
Application and Admission
After your master's
Career prospects in both industrial and academic environments are excellent. All participating institutions are highly networked with the medical engineering profession and the University Hospital Bern (Inselspital). The successful completion of the program allows participants to continue their education towards a PhD degree.